Archive for the 'Tinea Corporis' Category
July 23rd, 2011 | Author:
...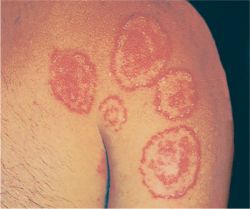 Arms with red spots of Tinea Corporis Tinea corporis refers to dermatophyte infections of the trunk, legs, arms, and/or neck, excluding the feet, hands, and groin. Tinea Corporis can appear even on the face's skin Tinea corporis (often called ringworm of the body) is a common skin disorder, especially among children, but it may occur in people of all ages. It is caused by mold-like fungi (dermatophytes). Tinea corporis is caused by a fungus. Tinea corporis is contagious and is...