Archive for the 'Exfoliative Erythroderma Syndrome' Category
September 13th, 2011 | Author:
...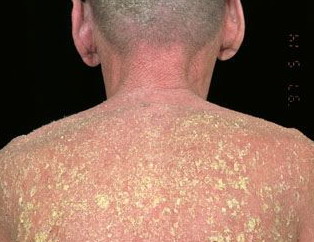 The exfoliative erythroderma syndrome is serious disease with skin lesions and hair loss The exfoliative erythroderma syndrome (EES) is a serious, at times life-threatening reaction pattern of the skin characterized by generalized and uniform redness and scaling involving practically the entire skin and associated with systemic "toxicity," generalized lymphadenopathy, and fever. Two stages, acute and chronic, merge one into the other. In the acute and subacute phases, there is...